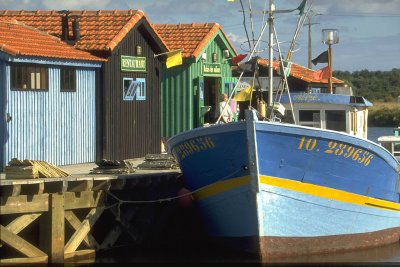 The port of Les Salines
Your hotel Le Coureau in Saint-Trojan-les-Bains is 3 km (10 minutes by bike) from the Ecomusée du Port des Salines in Grand Village, on the Ile d'Oléron.
The Port des Salines is a remarkable place, in a natural setting, where young and old alike can learn the history of salt farming in Oléron and the know-how of the salt worker in all its facets.
But it is also an ecomuseum, which takes you, from cabin to cabin, on avoyage of discovery of the magical world of salt and marshes, with exhibits suitable for the whole family.
Learn about the salt marshes from your Saint Trojan hotel
Treat yourself to a guided and commented tour to discover how a salt marsh works. You will thus be able to observe the ancestral gestures of the salt worker and then taste the white gold that is salt. You can also opt for a boat trip, a fun way to discover the salt marshes. Or, for more freedom, you can simply walk the interpretation trail, with free access 24 hours a day, which marks out the pedestrian route and allows an initial awareness of the salt-producing heritage.
More info on the Port des Salines on its website.