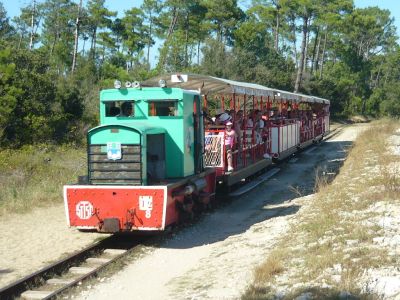 Fun for both young and old alike, the nicest little train on the island of Oléron leaves just a short distance from your hotel Le Coureauin Saint-Trojan-les-Bains.
Take the p'tit Train de Saint-Trojan from Saint-Trojan-les-Bains train station, south of Île d'Oléron. It takes you on a 12 km round trip to the wild confines of Pertuis de Maumusson with its magnificent landscapes of fine sand and pine forests inaccessible by road.
P'tit Train de Saint-Trojan services
The p'tit Train de St-Trojan, running since 1963, allows you to easily enjoy the pleasures of days at the beach, in the sun and walks in a natural environment. The p'tit Train de St-Trojan, in July and August offers magical walks with its "Trains du Soleil Couchant". Gourmets can enjoy the Buffet de la gare (from April to October) with lunch at the brasserie which is open every day. The Wagon Bar also welcomes you at the Pertuis de Maumusson for snacks.
More info on the website of the P'tit Train de Saint-Trojan